Bzz Bzz
A downloadable game for Windows
Become a fly, and fly!
A game created by a team composed of 7 ENJMIN students, 4 master JMIN students, and 3 IEM students, during a 5 day workshop. The goal was to make a game available for people with disabilities, it was designed to be played with various controllers, to fit as many situations as possible.

A Theremin, placed in this box and carefuly set up, allows the game to be played with two arm, the first one sliding left and right to set the fly's orientation, and another one moving toward the bottom right corner to define the fly's speed.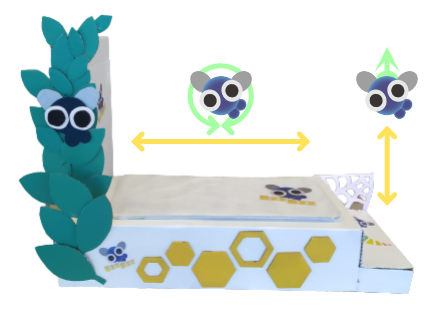 The game offers the possibility to use 3 different controllers, usable in a modular way, allowing 9 different control modes.
The default control mode is Keyboard / Keyboard. This can be changed from the ESCAPE menu.

For the movement :
Keyboard (UP key)
Mouse (left click)
Theremin (volume control antenna)
For the rotation:
Keyboard (LEFT and RIGHT keys)
Eyetracker (tested on Tobii Eye Tracker 5)
Theremin (note antenna)
To connect an Eyetracker :

Connect and configure the device for your computer and profile
Start the game
The controller should work by selecting it from the menu
To connect a Theremin:
It is necessary that your Theremin has a MIDI output
Install the EasyController software (https://42noir.com/es/)
Connect the MIDI output of your instrument to your computer
Map the outputs of your Theremin with the software:

Our configuration: "Open" button, "1, 2; 2, 20;", and the other values at "-1")

Configure your own instrument: Green button next to "MAP MIDI", then follow the software instructions)

Check that the software is correctly set up, s1: Note variation, s2: Volume variation
Activate the green button next to the Unity logo
Start the game
The controller should work by selecting it in the menu